25900 Greenfield, Suite 136
Oak Park, Michigan 48237
Phone: (248) 968-3505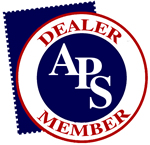 Unsold Auction Lots
Terms:
The following items are Unsold Auction Lots and various Specials.  Generally, the lots are one-of-a kind, and will be sent to the first buyer.  The price includes shipping to U.S. addresses.  Lots will be shipped within one day of payment, and are not returnable unless prior consent is received from Modern Stamps, Inc.  If the lots are picked up at our office in Oak Park, a credit will be issued for the shipping cost.
Shipping/insurance/registration costs will be added for customers outside the United States.  All prices are in U.S. Dollars.
Please contact us if you have any questions or comments.