25900 Greenfield, Suite 136
Oak Park, Michigan 48237
Phone: (248) 968-3505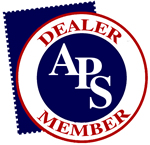 Welcome to the Home Page for Modern Stamps, Inc.
We Buy Collections, Estates and Individual Items.
Contact Ken for an Appraisal, Offer to Purchase, or to Discuss Sale through a Future Auction. Free Consultation on the best way to sell your Stamps, Covers or Collectible Items. 
Stamps for Collectors, Postal History, Covers and Collectibles.
Our Next Public Auction is #515:   December 2, 2023
            Final Bidding Begins at 12:00 Noon (EST)
The Auction will have Live Internet Bidding and Audio Available through StampAuctionNetwork.
Phone Bidding During the Auction can be Scheduled.
Please Call if You have Any Questions.
Click Here  to View the Printed Catalog for Auction #515   
Auction #515 is Available on:  StampAuctionNetwork   
Click Here
  to Review
Opening Bids  

and

  
Photos of the Lots 

and

  To Place Bids  
f
or
Auction #515 
through
StampAuctionNetwork
.
No Bidders Fee Is Added To The Final Invoice.
Payment is Accepted by VISA, MasterCard, Discover, AmEx, PayPal, Cash or Personal Check (U.S. Dollars Only).  Payment may be made securely using the "Make a Payment" button above.
Please Request Catalog For Future Auctions To Be Mailed Free of Charge (U.S. Addresses Only).  Click here for E-Mail (Place Auction Bids, Request for Catalog, General Information, Questions, Etc..)
Modern Stamps, Inc. has been conducting Public Stamp Auctions for over 40 years.  We are a proud member of APS.  We specialize in smaller lots, collections and accumulations, than is typical of many Auction Firms.  Every Auction contains a wide variety of items, Including better Single Items, Collections, Accumulations and Unsorted "Box Lots".
Nine Public Auctions are scheduled per year.
Final Floor Bidding is conducted in our office in Oak Park.
Phone Bidding during the final bidding can be scheduled.
Please request a copy of our Auction Catalog  (FREE within U.S.A.).
Auction lots include world wide stamps, collections, accumulations, covers and philatelic materials.  Accumulations and "Box Lots" are included in all Auctions.  Some Auctions also include coins, memorabilia, literature, picture post cards, supplies and other collectible items. Something of interest for almost every collector.
Office Hours:
     Monday thru Friday:   10:00 am to 5:30 pm
     Some Saturdays:  10:00 am to 2:00 pm
     Closed on Sunday
A few Reserved Parking Spaces for Customers of Modern Stamps are available outside the North Entrance.
You will need Adobe Acrobat Reader to Read or Print the Auction Catalogs, Prices Realized or Opening Bids.
If you do not have Acrobat Reader, or if you need to update Acrobat Reader on your Computer, CLICK HERE for FREE  Download