25900 Greenfield, Suite 136
Oak Park, Michigan 48237
Phone: (248) 968-3505
Fax: (248) 968-3585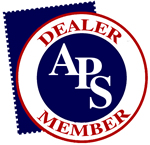 Local Shows and Clubs
Upcoming Detroit Area Stamp Shows
Please contact Ken at Modern Stamps if you have any questions relative to any of the Stamp Clubs or Stamp Shows.  Also, please contact Ken if you wish to post an upcoming Stamp Show or Event, or to update information on any of the Stamp Clubs. 
Exploring Stamp Collecting as a Hobby
The Following Video is available on YouTube
BIRPEX 2019 (#2)
CANCELLED.
Saturday, September 7  (10:00 am to 5:00 pm)
Sunday, September 8, 2019   (10:00 am to 3:00 pm)
Detroit Area Stamp Club Meetings
Ann Arbor Stamp Club
Salvation Army Citadel
W. Huron & Arbana, Ann Arbor

Meeting Starts at 7:30 pm

3rd Monday - Feb. thru Oct.

2nd Monday - January

1st Monday - November

No meeting in December

 

Detroit Philatelic Society

(Monthly Meetings Since 1908)

Dinner Meeting on 3rd Wed.

Location Rotates Between

Various Restaurants

Cocktail Hour 6:00 pm

Dinner  7:00 pm

Philatelic Presentation  8:00 pm

Club Auction  8:30 pm

 

Allen Park Stamp Club
Ramsey's Coney Island
12552 Dix Road

Southgate, MI

2nd Thursday 

5:30 - 7:30 PM

 

Michigan Stamp Club
McFadden Ross House

915 Brady St.

Dearborn, MI

2nd and 4th Monday,

7:00 - 10:00 PM

 

and Ferndale Stamp Club

Birmingham NEXT
(BASCC Senior Center)

2121 Midvale Avenue

Birmingham, MI

1st & 3rd  Tuesday, 6:30 - 9 PM

 

Motor City Stamp & Cover Club
Sokol Cultural Center

23600 W. Warren Ave.

Dearborn Hgts., MI

Last Sunday, (except Oct & Dec)

3:00-6:00 PM

 

Dearborn Stamp Club
Senior Center

Ford Performing Arts Center

15801 Michigan Ave. (at Greenfield Rd)

Dearborn, MI 

2nd Tuesday  1:00 - 3:00 PM

 

Pontiac Stamp Club
Waterford Parks & Rec. Building

5640 Williams Lake Road

Waterford, MI

2nd Tuesday, 6:00 - 8:30 PM

 

Kalamazoo Stamp Club
Parchment Community Library

401 S. Riverview Drive,

Parchment, MI

3rd Tuesday, 5:00 - 8:00 PM

Breakfast, Stamps & Beyond

Coolidge Cafe

13400 W. Nine Mile Road

Oak Park, MI

Mondays,  8:30 AM

 

Stamp Collectors Club of Toledo
Wernert's Corner Civic

Association Hall

5068 Douglas, Toledo, OH

1st & 3rd Thursday (Sept.-May)

7:00 PM

West Suburban Stamp Club
Plymouth Historical Museum

155 S. Main Street

Plymouth, MI 48170

1st & 3rd Friday, 6:30 -9 PM

 

 

 

Community of Christ Church

5050 Howard

Windsor, Ontario,  Canada

1st & 3rd Wednesday, 7:00 pm