25900 Greenfield, Suite 136
Oak Park, Michigan 48237
Phone: (248) 968-3505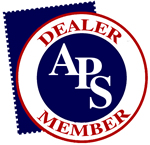 Selling Your Stamps
We Buy Collections, Estates and Individual Items.
Contact Ken for an Appraisal, Offer to Purchase, or to Discuss Sale through a Future Auction.
There is No Charge for an Informal Appraisal.
Free Consultation on the best way to sell your Stamps, Coins or Collectible Items.
For Auction Sale, Cash Advances can be arranged.
Office Hours:
     Monday thru Friday:   10:00 am to 5:30 pm
     Some Saturdays:  10:00 am to 2:00 pm
     Closed on Sunday
No appointment is necessary, but it is best to call first to confirm that Ken will be available to spend time with you.
A few Reserved Parking Spaces for Customers of Modern Stamps are available outside the North Entrance.